From May 15th to 19th, Redemptorist students from Canada and the United States gathered for the first time since before the COVID Pandemic. The Gathering occurred at the Redemptorist Retreat Center in Oconomowoc, WI, and the participants included Provincials, Formation Directors, Vocation Directors, and students from the Provinces of Canada, Baltimore, Denver, and the Vice-Province of Extra-Patriam.  The participants from the Province of Canada included myself, Noel Oco, Michael Smolinski, Raymond Douziech, Santo Arrigo, Remi Hebert, who will be going San Antonio to the Formation Community as co-director.
Each day began with Morning Prayer and breakfast, after which everyone gathered for a lecture presented by Monsignor Stephen Bosso (Diocese of Pensacola-Tallahassee). The talks focused on the power and creativity of the Word, especially in preaching. After the lecture, the students would have the afternoons free, while the Provincials and Formation Directors participated in meetings.  On Tuesday afternoon, many of the students went to Holy Hill, a Discalced Carmelite Shrine in Hubertus, WI (where some of us made the trek of climbing the 178 steps to the top of the bell tower!  See picture at right). Mass was celebrated each day before supper, and the evenings were usually free so the community could gather for fellowship. On Thursday, Steven Urban, Antonio Montoya, and Scott Partin (all students from the Denver Province) renewed their vows to the Congregation. Participating in that joyful celebration with my fellow confreres was such a blessing.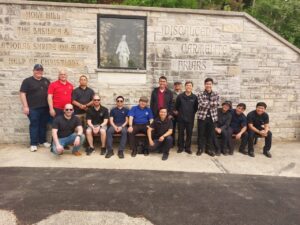 It was an insightful week of prayer, reflection, and connecting with students from different North American Provinces. This was the first student gathering I was able to attend, and I look forward to participating in next year's get-together! Please continue to pray for more vocations to the Redemptorist way of life, especially within the North American Conference. Also, pray for the students already in formation so that they may persevere and continue to listen to where God is calling them.