By Fr. David Purcell, C.Ss.R.
Wow!  It has been many, many months since I have been able to make time to write.  My difficulty with time for writing is that much of my time is taken up in speaking with, writing to, and visiting families of, men who are interested in joining our Redemptorist community.  As one man asked me this fall after attending vocation activities since last spring, "so what's the next step for joining the Redemptorists?"
Here you see five inquirers who attended a December retreat at our student house in Toronto.  We used the Icon of Our Mother Perpetual Help to meditate on "The eternal Word became poor for us,"  and "The eternal Word became flesh for us."  For our common prayer on these themes, we used the words of St. Alphonsus, who, as you know, has written many meditations on the mystery of the Incarnation.    A special thank-you to our student community who hosted this retreat.  Please remember to pray for our inquirers across the country.  We have one man in Toronto and one near Vancouver who want to apply to the next stage as a Candidate with our community. 
Please remember to pray for Alfredo and  Luis, who continue their studies of philosophy and theology.   May I suggest, that at your next gathering of Redemptorist Associates, or at a community meeting, you take time to sign a card as a tangible expression of your prayers, and to send this encouragement to our two students in Toronto.  And, if you are up for a challenge, send encouragement to Ivan who is in our novitiate in Poland, and Eumir who is studying theology at our student house in Austin, Texas!
Thanks to Fr. Michael Brehl!  He brought an originally written copy of the Icon of Our Mother of Perpetual Help, from Rome to Toronto.  I used this icon for our retreat day mentioned above.  I am also taking these reflections and this Icon,  "on the road."  This next picture highlights a retreat for parishioners from St. Norbert Parish, North York.  As part of their 50th anniversary celebrations they held a full day Advent Retreat.
In the coming months, I am meeting with groups of young adults for a retreat evening, or series of evenings, or a retreat day in this format.  In addition to the themes mentioned above, Anne Walsh and I have developed the following reflections:  "Our Mother's help through loving eyes,"  "Mary holds us in sickness and suffering," "Our Mother's Help to see Jesus in the Breaking of the Bread."  As you look ahead to the coming year or even next year, please let me know of any groups who might be interested. 
I enjoy very much in my travels, participating in special events in all of our communities across the country.  Here I was blessed to celebrate the 50th anniversary of St. Joseph Parish in Winnipeg.  Metropolitan Lawrence Huculak presided, while Fr. Dmytro Dnistrian C.Ss.R,  the pastor at St. Joseph, and I concelebrated on the 17th of September.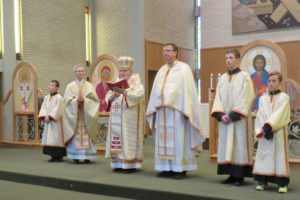 I arrived in Saskatoon in November  just in time for the installation of Bishop Mark Hagemoen.   In the pictures you will see Redemptorist Bishop Bryan Bayda C.Ss.R. (at the left) and just behind the ambo in the sanctuary is Bishop Gerry Pettipas C.Ss.R. (picture at right).   Among the priests behind the sanctuary, you will not see Frs. Ciro Perez, Steve Morrisey, David Purcell, nor Graham Hill who were also in attendance.  If you look closely you will see a soon to be bishop, Fr. Jon Hansen.
As you know, Fr. Steve Morrisey, serves three parishes all within an hour's drive from Saskatoon.  In the picture at the right, he is with parishioners who attended a Sunday Mass at Paroisse Sts. Donatien et Rogatien, at the end of November.  The week after this celebration, Lay Missionaries of the Most Holy Redeemer, Joan and Bob Williston arrived to preach a parish mission for the three parishes that form a pastoral unit.
During the summer, I was joined at Ste-Anne-de-Beaupré by two men who wanted to live-in with the Redemptorists for a short time.  This was an experience which helped their desire to join the Redemptorists, to grow stronger.  Pictured at the left at a crêperie, is Hawkins.  Although Hawkins worked very hard at the Basilica, we also took time to visit in Québec city.
I am always inspired by the pilgrims who come to celebrate St. Anne and to ask her help in their lives.  Seated with me on the bench are John and Jerome.  They are part of a family of Innu people who traveled from Sheshatshiu, Labrador.  Talk about a pilgrimage!  Sheshatshiu, is situated on a lake which extends out to the east coast.  It takes many days to travel by a long winding road out of the interior of Labrador and down into Ste-Anne-de-Beaupré.  They make this pilgrimage every year.
I was also very inspired by my visit to the Redemptoristine Sisters in Ste-Thérèse, Québec.  Ste-Thérèse is a growing city, about a half hour drive north of Montréal.  A more recent member, Soeur Marie-Hélène Bourdon, born in Québec, professed her first vows in May of 2015.   My inspiration for this visit started in Toronto where a Vietnamese confrere showed me a video of 12 men being ordained, and 17 men professing their vows with the Congregation, in Vietnam, during the spring of last year.  In the middle of a large group of sisters, dressed in black habits, I noticed two sisters dressed in crimson.  I found out that they were from the community of Notre Dame du Perpétuel-Secours  in Ste-Thérèse.  They were sent to help found a new community in Vietnam!  You can see in the picture at the left, a novice of the Order of the Most Holy Redeemer, who finished her first year of novitiate in Québec and who is now completing her second year of novitiate in Vietnam.
In a more recent visit just before Christmas, we had a meeting to discuss how to do some activities together to attract inquirers to our family of the Most Holy Redeemer.
I hope you are encouraged, as I am, that although some messages in the secular press report that no young people are interested in the Catholic Church, across Canada there are indeed, young people interested in serving the Church;  there are people interested in joining the Redemptorists and the Redemptoristines here in Canada.  As you plan ahead for the coming year, I hope you will invite people to get to "come and see"  your community.  If you find yourself saying, "we don't see or meet any young people in our ministry", I can give you the names and locations of individuals and groups of young people who are very close to where you live.   Here is a group of university students who meet weekly on the campus of the University of Toronto. During recent years, three priesthood candidates and two sister candidates have emerged from this group.  They asked me this past fall,  if there are any Redemptorists who could participate in their group on a more regular basis than I am able to participate.